Team
Registered Massage Therapists
Marcus Blumensaat BSc RMT SMT (c)
Background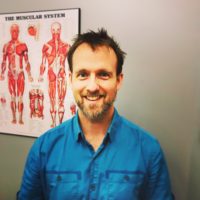 Marcus draws on a comprehensive education, as well as a wealth of professional and personal experience with the human body, to help his clients reach their optimal state of being.
In 2001, Marcus earned a Bachelor of Science in Kinesiology from the University of Victoria (UVIC). Through his five years of study he obtained in-depth knowledge of exercise physiology, motor control and learning, care and prevention of athletic injuries and biomechanics. While at University Marcus also obtained his certification as a BCRPA Personal Trainer. During this time he also played for the UVIC Vikes varsity rugby team and the Canadian (Under 23) National rugby team.
This combination of education, certification, as well as training by the elite strength and conditioning coaches of Rugby Canada allowed him to quickly build a strong knowledge base for him to draw from as he began to prescribe his own exercise programs for the public in both the rehabilitative arena as well as the high performance arena.
Marcus then went on to complete the 3000-hour Registered Massage Therapist program at the West Coast College of Massage Therapy. This program is world-renowned for the breadth of academic material covered as well as a vast array of manual skills learnt throughout the training.
Upon graduation and certification in 2006, Marcus opened the Left Coast Health clinic and began to practice full-time. While working, Marcus acquired his certification as a Sport Massage Therapist from the Canadian Sport Massage Therapists Association (CSMTA). He is now one of only 32 professionals to attain this certification nationwide.
This certification has opened many doors for Marcus in the sports medicine field. He has worked with Canadian National team athletes from many sports including athletics, swimming, diving, triathlon and rowing. He worked as a massage therapist at the 2008 Beijing Olympics, the 2012 London Olympics, the 2016 Rio Olympics and many other international events. Marcus is currently a member of the Integrated Support Team (IST) for Rowing Canada Aviron's senior National team.
Philosophy
Marcus recognizes that health is incredibly complex as there are so many factors that influence it. He believes that health can be boosted with an active lifestyle, healthy eating, high-quality sleep, effective stress management, as well as connection to nature and loved ones.
Approach and Techniques
Marcus doesn't just 'rub' tissue…he firsts receives a thorough client/patient history in order to fully ascertain all of the information that will help him to understand your case.  He then performs a comprehensive physical assessment to see your level of physical function.  Through this screening process he can rule out/pick-up on any red flags that would require a referral to your doctor or a specialist.  If no red flags are apparent, he proceeds by addressing the many factors that influence your health, performance and levels of experienced pain.  Marcus addresses them through client/patient education, advanced exercise prescription and manual therapy techniques.
At the conclusion of a session with Marcus he would expect you to feel empowered and inspired to get outside, move and live life to its fullest!
Outside of Practice
When not practicing, Marcus can often be found having fun with his wife and two daughters. If it isn't family time Marcus will be out mountain biking or snowboarding depending on the season. When the kids are in bed he can be deep in a good book, having a pint with friends or working on projects around the house.
Joelle McCartie RMT
Background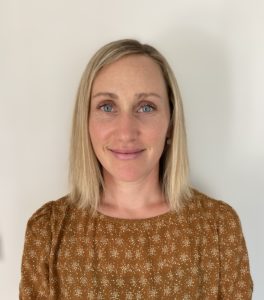 Joelle studied massage therapy at the West Coast College of Massage Therapy in Victoria B.C. and completed her comprehensive training in December of 2005. Since graduating, Joelle has worked in many multidisciplinary clinics as well as being a member of the IST for swimming Canada. She has gone onto take many different forms of continuing education over the years.
Joelle has always had a passion for movement. She grew up dancing, found a love for triathlon and transitioned into competitive running. She also loves yoga and strength training. Exercise and movement will always be a part of her life.
Since graduating, Joelle has concentrated her continuing education on courses that strengthen her clinical practice which focuses on but is not limited to injury prevention and rehabilitation. More recently, Joelle has discovered a passion for learning about the mind-body connection when it comes to chronic pain and illness. She has taken many courses and attended different workshops which have inspired her and aided in her own journey of self-healing.
In clinical practice, Joelle treats the general public, recreational athletes and national team athletes from a variety of sports. Joelle enjoys sharing her passion for health and well-being with all of those she treats.
Philosophy
Joelle believes in looking at each individual as a whole and looking beyond just the biomechanical factors that could be contributing to one's pain or discomfort. She believes that the state of the nervous system has a significant impact on the levels of pain and discomfort that we experience.

Approach and Techniques
Joelle has always been interested in getting to the root cause of one's pain or illness. With her increased level of education in the area of chronic pain management, she is well versed in helping people better understand their pain.
Joelle incorporates functional assessment, education as well as self-management techniques to help her clients progress towards their goals.
Outside of Practice
Outside of the clinic, Joelle spends her time with her two young daughters. She continues to fit running, biking, swimming and strength training into her daily life. She loves being outside and continuing to expand her knowledge about the mind-body connection.

Julia Vosburgh RMT
Background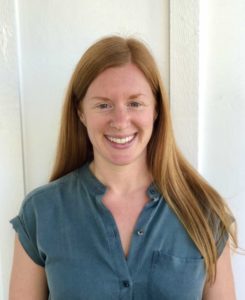 Born and raised in Victoria, Julia grew up dancing, training for triathlon, and competitive swimming. She found her roots on her yoga mat 15 years ago, and now teaches yoga throughout the community. Julia's passion for body awareness, movement, wellness, and the ever-expanding need for human connection drew her towards massage therapy and a career change just over 2 years ago. Julia is a graduate from the West Coast College of Massage therapy here in Victoria, B.C. A lifetime of athletic experiences has driven Julia to learn extensively about anatomy and physiology, and she endeavours to share her avid joy of movement with her clients.
Philosophy
Julia believes the human body is an incredible yet complex organism, consisting of many layers that we develop, uncover, adapt to, and change throughout our lives. While the state of health is a constant process, requiring the owners input 100% of the time, massage therapy is a beautiful addition, which can help strengthen the bond we have with our bodies.
Approach and Techniques
From assessment of functional movement patterns, to treatment incorporating active and passive modalities, Julia aims at guiding her clients towards their health goals with a broad, holistic approach. She hopes to create a supportive connection with all of her clients, and leave them feeling empowered and at ease in their bodies. She looks forward to working with motivated clients from all walks of life.
Outside of Practice
If she is not in the clinic space, Julia is likely swimming, on her yoga mat, or outside exploring the west coast with friends, on foot or by bike. Julia will continue to be a student always seeking to learn, from her clients, about the body, the practice, and about life.